Flame Catering & Banquet Center Sizzles with the Addition of New Chef Gerry Fong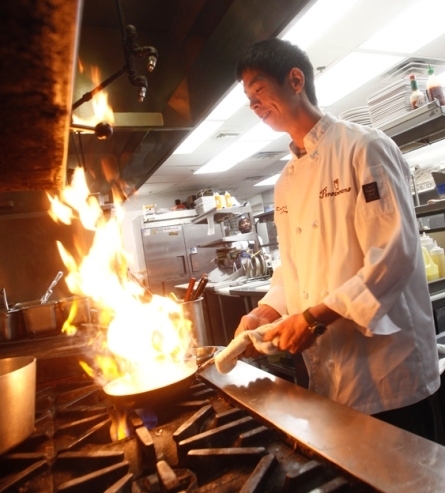 Flame Catering and Banquet Center is excited to announce the appointment of Chef Gerry Fong on the culinary team alongside Flame Catering owner, Chef Smoke. Fong is a nationally respected and innovative chef with over a decade in the culinary industry. You may have most recently seen him on Food Network's culinary competition show, Cutthroat Kitchen, Season 4 where he was crowned first place winner. The Chef Smoke and Chef Fong duo brings a new culinary spark to New Bern's culinary scene – combining Southern Carolina cuisine with Southern Asian fusion.
Native to North Carolina, Chef Fong learned to cook helping his parents in their family-owned Chinese restaurants while growing up in Rockingham and Laurinburg. He attended college at UNC-Wilmington and followed his mother's advice and pursued professional culinary training at the Culinary Institute of America in Hyde Park, New York. Fong has spent career time in California at the Ritz-Carlton in Half Moon Bay with Chef Brian Bistrong whose motto still rings true to Fong, 'Perfection and integrity are the hallmarks of good cooking.' He returned to North Carolina and cooked at Ashten's in Southern Pines before landing in New Bern in January 2009 where Fong opened Persimmons. Like Chef Smoke, he has always loved the coast for its weather and hospitality. With New Bern as his home, Flame Catering and the partnership with Chef Smoke is an extension of that home for Chef Gerry Fong.
Already the premiere catering company for Eastern North Carolina, Flame Catering looks forward to taking their successes to a new level with a phenomenal new array of blended menus. Chef Smoke and Chef Fong together are working through Spring and Summer 2015 to create and taste test new and enhanced menus. Customers and event clients for the Flame Catering and Banquet Center will begin to experience new dishes in late 2015 and on the menus of 2016 special events.
Photography credit: Cathryn Lindsay / New Bern Sun Journal