So He Popped The Question... Now What?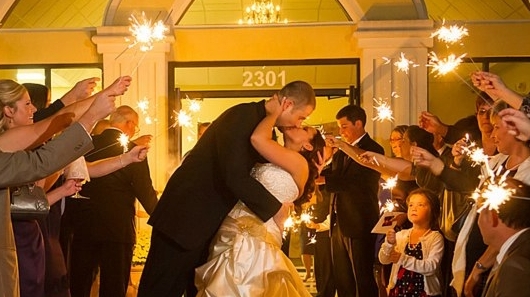 Congratulations! Now, take a minute to breathe and enjoy letting it sink in. Whether you're in a rush (6 months or less), at a steady pace (6 months - 1 year) or on a slow stroll to the rest of your lives together (more than 1 year to plan) please know that with the right vendors it can be done beautifully no matter the length of time available to plan.
First things first: YOUR CEREMONY AND RECEPTION LOCATION(S)
I always tell my brides that the very first thing that you need to lock in are the dates at the venue(s) for your ceremony and your reception. Without that nothing else can go forward! In my opinion even the amazing dress that you're sure to pick out needs to be chosen based on the venue. Make sure to talk with the reception location in detail about catering and bar options since the meal is normally the biggest expense of the wedding. Even though you're not ready to pick out your exact menu yet, you still want to know that you can reasonably expect to stay around your targeted budget for food and beverages.
Next: THE DRESS
As a caterer I don't have much to say here other than what I've heard my brides say. I've also been happily married for 12 years now so a LOT has changed since I personally had to buy a wedding gown. Time is of the essence. If you're going to custom order a gown you can reasonably expect to wait 6 months or more for it to arrive and then you need to allot approximately another month or so for fittings and alterations. An alternative option is to buy off the rack in your size and then alter. Things to consider as you choose: indoor/outdoor location of your ceremony and reception, comfort vs. style (what's most important to you?), price and that it makes you FEEL beautiful. I would NOT bring all of the bridesmaids to help you pick, nor would I try to choose their dresses at this appointment. What's the saying that comes to mind? "It's all about me" today. :)
Then: EVERYTHING ELSE
You should try to reserve all of your other vendors as soon as possible. Here are some of the things that I personally would take into consideration with the following vendors.
Caterer: Remember this - All caterers are not created equally. Here's how we work with our brides at The Flame Catering. I usually start out by asking a bride to describe what they have pictured in their minds for their wedding day. Are you looking for something formal, do you want your guests to mingle through interactive food stations throughout the evening or do you want something even a little more relaxed than that? Once I have an idea of what you're looking for I can recommend a few options for you. My goal is to try to stick within both your vision and your budget while keeping within The Flame's signature quality and style. Some catering companies have their prices listed on their websites while others don't. The Flame's site will give you a range of prices so you have an idea of what to expect as you begin planning. Your final price can be figured very quickly after we narrow down your food preferences.
Bridesmaids dresses, tuxedos, flower girl dresses and ring bearer suit: I'm a huge fan of try it on so we lower the risk of surprises later. Try your local gown shop for the suits since it will be much easier to pick up and return rented items to one location.
Photographer: Engagement photos, bridal portrait, day-of photos before, during and after ceremony/reception, extra photographer for a do-it-yourself photo "booth" (I'll explain this one in another post). I ALWAYS look at their website to see if the photographer on a regular basis is capturing the types of images that appeal to me. Don't be afraid to ask questions. If you have a large family you may want to consider asking if they utilize an assistant to help with "wrangling up" the family at the appropriate times for photos.
Wedding cake: What's most important... taste, style or both? Keep that in mind as you scour the internet for your dream cake. Your baker should be able to tell you the pros and cons of each option that you are considering. Look at their portfolio just like you would any other vendor.
Musicians/DJ/Band: I personally have a deep love for instrumental music so I'm a little biased when I say that it is a wonderful thing to hire a couple of experienced musicians to play for your ceremony. Prices will vary based on number of musicians and length of time. For the reception either a band or a DJ can be great depending upon your crowd. You know your friends and family better than anyone. If the vendor only plays one style of music keep that in mind when making your final decision. As with everything else... communication is the key!
Florist: There are so many options here for bouquets, decorations and centerpieces that it's hard for me to pick just a few pointers to give. If I had to do it all over again I would start by asking around for recommendations and then set up an appointment with the top two referrals. Let them give you suggestions based on your "must-haves," your color scheme/theme and budget.
Last, but definitely not least,
Wedding planner: Some of our brides want to handle all of the details and some are comfortable working with a planner to help make decisions. There are some great local planners around Eastern North Carolina that would be happy to help you as much or as little as you'd like. If the above list has stressed you out a little it may be time to call in reinforcements sooner rather than later!
Your wedding day will be one of the most memorable days of your lives so please don't spend too much time stressing and worrying about the details. With the right team behind you this should be a piece of cake!
~Jennifer Robinson