Eat, Drink & Be Merry This Holiday Season - Part I (Venues)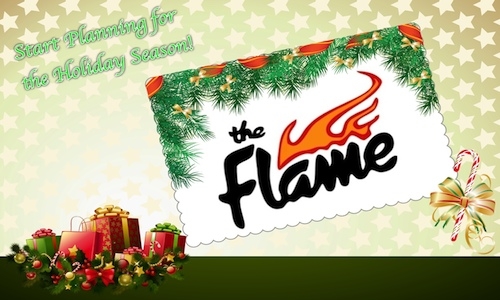 As the end of 2014 nears we're moving into a favorite part of the year, holiday party season! Once there's that familiar nostalgic chill in the air it's a wonderful time to connect with others and say 'thank you' for making a difference this year. And what better way to make that connection than through the hospitality of a holiday party! If you're considering hosting a party this holiday season consider our insights and advice that we'll be sharing in a 3-part blog series on the planning areas of: venue, menus and decor.
PART I: HOME FOR THE HOLIDAYS AT THE FLAME BANQUET CENTRE
Home is where the heart is, and at the Flame Banquet Centre we want every guest to know just how special the holidays are. With 4,500 sq. feet of venue space we can easily accommodate holiday gatherings in many sizes. Festive and fully decorated, we make hosting a party just 2 miles from downtown New Bern easy. Whether your party is for employees only or whether opening it up to employees, spouses and/or clients, we have the room to comfortably accommodate intimate to larger groups. Every party is handled individually and with the utmost professionalism and expertise by our team.
And if looking for money-saving venue options consider hosting your party as a luncheon, Sunday brunch or weekday evening party. National trends are showing that Wednesdays, Thursdays and Fridays are now the most popular days for corporate parties and we still have a few of these day options available for both November and December. Did we also mention that the Flame Banquet Centre is fully decorated? Save on holiday decor and more when you bring your party into our home!