Designing centerpieces for beginners...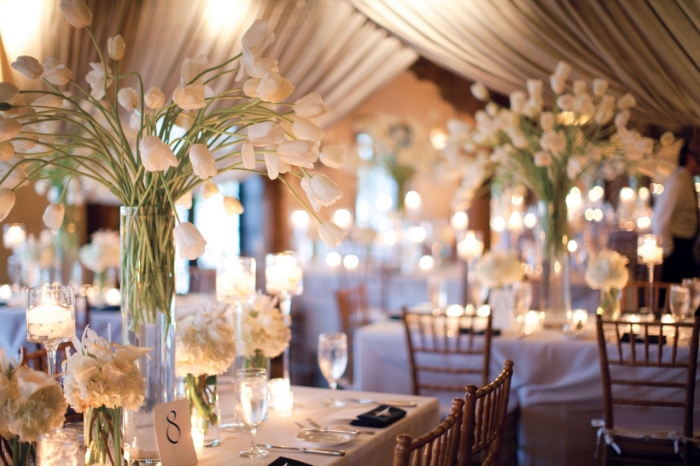 I probably haven't designed more than 5 or 6 centerpieces between my home and my work life so just like most of you, my experience is somewhat limited. Thankfully, there are soooo many wonderful design ideas on the internet just waiting to be found. The question is can you successfully modify and/or duplicate them? There are a few things to consider before you officially settle on the elements to be used in your tablescape.
1) The size of the table(s) that you'll need to decorate.
Using your dining room table or a small round end table to practice with is okay, but make time early in your design process to physically bring your decorations to the facility that you'll be working with. You need to see how they actually look so you're not caught off guard after it's too late to make changes.
2) Your theme.
If you have a theme that you're trying to work with, type that into your search engine and then click "Images" to see what others have posted. It might be something like "black, fuchsia wedding," "country chic event" or "hawaiian decor." Take a little time (maybe a week or two) to look at different versions and different aspects of each picture that you like and then start looking for the actual elements that will make up your look. The tough part in a world of Pinterest and similar sites is finding a point to STOP looking! An alternative to all of this is to hire a decorator, describe your vision and let them bring you ideas!!
3) Your budget.
Finding all of the tiny little elements that make up your centerpiece may not be as inexpensive as you'd think. If you have a low budget for decor then you may have to search quite a bit for things to fit your theme. Stay open for new ideas so it doesn't become overwhelming. If you have a little more flexibility in your budget take your time and have fun with it! Look for borrowing, renting and purchasing options. For example at The Flame we have a few different sized vases that are available to be rented along with your catering package. A planner can help a lot here as well!

I hope this helps you get started! :)
-Jennifer Robinson
1 Comment on this post
---